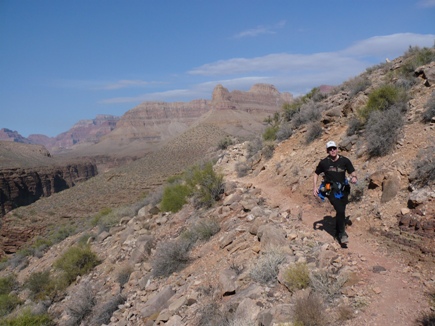 Davy Crockett (yes, he really goes by Davy) lives a few miles west of me in Saratoga Springs. I've never met him, but a while back someone (probably DJ) mentioned that a few people run up Timpanogos. Intrigued I searched the internet and found Davy. Here's his running story in bullet points:

In 2002 he was a 230 pound couch potato when he hiked Mount Timpanogos for the first time.
He began training through 2003 and had a few injuries.
In 2004 he learned about ultrarunning, entered his first race (50K, came in near last).
Other races in 2004: 50 miler - came in dead last, 100K - DNF and injured other knee, 100 miler - first bad bonk at mile 87 and DNF'ed.
Did more training, lost more weight and learned to run.
In 2005 finished seven ultras including two 100 milers, but DNF'ed two other 100 milers - ran his only road marathon in 3:44.
As of 2007: has lost 60 pounds, in best shape of his life at 49, has finished 30 ultras including 12 100 milers (and regularly finishes in the top 25%).
That's quite a transformation!
And while Davy enjoys the competition of races, he also loves long distance adventure runs - many he plans himself.
If you enjoy adventure, like I do, you'll be enthralled
reading his Timp running progression
all the way up to his 2006 "Quint" (ran up to the summit and back down
5 times consecutively!
- that's approximately 75 miles and 23,500' of climbing!).
If that wasn't enough, last year (2007) in the Uintas he
ran 70 miles along the Highline trail
(never drops below 10,000') in 30 hours and another time
ran across the Kings-Emmons Ridge
to bag 7 peaks over 13,000' in less than 21 hours. Yeah, he does some pretty extreme stuff!
Of interest to mountain bikers who know of the grueling
Leadville 100 race
, Davy ran the
Leadville Trail 100
(one of the 4 major ultramarathons in the USA which he DNF'ed in 2005) in 26 hours, 15 minutes taking 60th place. Amazing.